RIAD LES PORTES DE L'ORIENT
An unforgettable experience
Are you looking for a unique experience?
Let yourself be lured in by the charm of the Orient, just 55 minutes by train from Paris, in the heart of Tours France. Les Portes de l'Orient Riad will seduce you with the perfect combination of traditional Oriental design and architecture with modern luxury, where you can immerse your senses in the sights and sounds of the Orient.
Our Riad is so much more than just another guest house or hotel, it is an experience in itself. If you're looking for an unforgettable holiday, then look no further than Les Portes de l'Orient for your next getaway and discover the city of Tours in an entirely unique way.
Les Portes de l'Orient is the perfect setting for your trip, whether you're travelling for business or leisure. All of our suites have been individually decorated, drawing inspiration from the tales of the One Thousand and One Nights, Majorelle Gardens, Timimoun and Pamukkale's visions of cotton castles to uniquely channel the charm and the ambience of the Orient to bring you an authentic East meets West experience.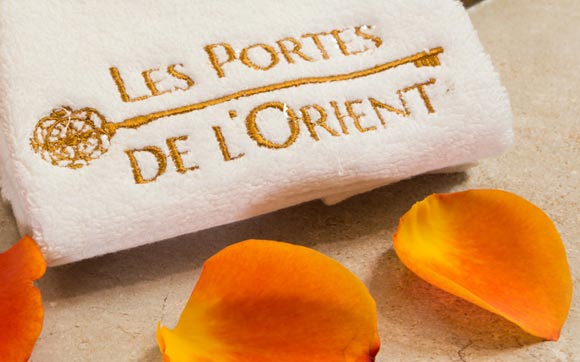 CHOOSE YOUR SUITE
We have four suites available for you to immerse yourself in the sights and sounds of the Orient
WELLNESS AND SPA
Relaxation Center
Les Portes de l'Orient invites you to discover traditional Eastern relaxation and wellbeing. Whether you're looking to connect and unwind as a couple, are looking for a traditional Eastern treatment whilst away with friends or need to de-stress at the end of a busy work day, let us take care of you.
Come and discover our wellness and beauty area. Les Portes de l'Orient Riad invites you to enter the magic of oriental cares and massage thanks to all of the world's rituals.
RIADTOURS.COM
Enjoy and cherish great times together

We invite you to explore your senses by discovering the flavours of the world with us here at Les Portes de l'Orient. The Orient offers a range of truly exceptional flavours, let us seduce your senses with a range of authentic dishes that will tantalise your tastebuds. Comprising of overlapping traditions and cultures, Oriental cuisine has mastered maintaining the originality of the taste of each individual country whilst also coming together as a mosaic of tastes and scents of the region.
We invite you to discover the traditional cuisine of the Orient prepared by our chefs.
RIADTOURS.COM
Book your perfect event with us, whether you are holding a special event for pleasure or business,
you can organise any type of event for the perfect experience in our Riad.

DREAMS COME TRUE
If you're looking for an unforgettable space to host your special event, from bachelor parties to engagement, birthday or even baptism parties, our stunning space will ensure your guests have an unforgettable time filled with memories to cherish for years.

IDEAS COME TRUE
Whether you're holding a seminar, meeting or training session, the setting of our Riad will surprise and delight your employees and colleagues alike. At the end of your session, why not treat your employees to a relaxing treatment or delicious meal?